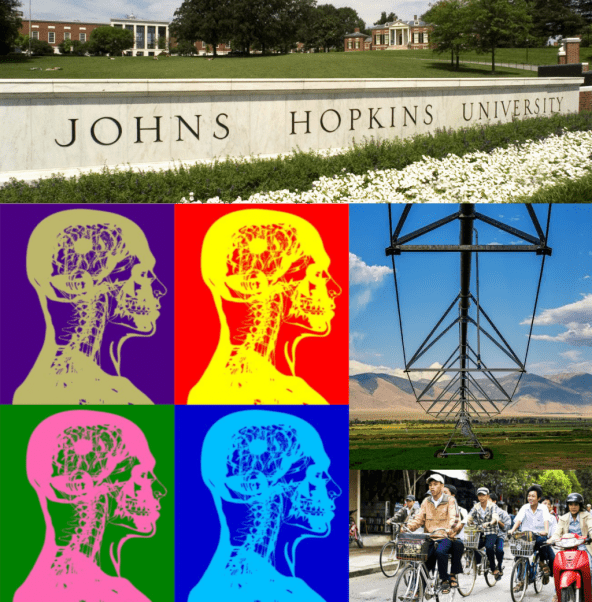 Modern, complex problems require the development of a new scientific way to analyze and address them – one that focuses on the connections between different disciplines. The goal of the Center for Systems Science and Engineering (CSSE) is to further the development of this science of interconnection.
Housed in the Johns Hopkins Department of Civil and Systems Engineering, CSSE takes a multidisciplinary approach to modeling, understanding, and optimizing systems of local, national, and global importance. These include medicine, health care delivery, national infrastructure, information security, disaster response, and education.  In addition to faculty from across multiple engineering departments, CSSE utilizes the expertise of researchers from the schools of Medicine, Public Health, Nursing, Arts and Sciences, Business, and Education; and from JHU's Applied Physics Laboratory, already one of the nation's leading centers of systems engineering.
Systems science is a modeling approach that embraces the dynamic interaction of engineered, human-behavioral, and natural components in time and space. It considers the system as a sum of its parts, where a change in any one part has system-wide ramifications.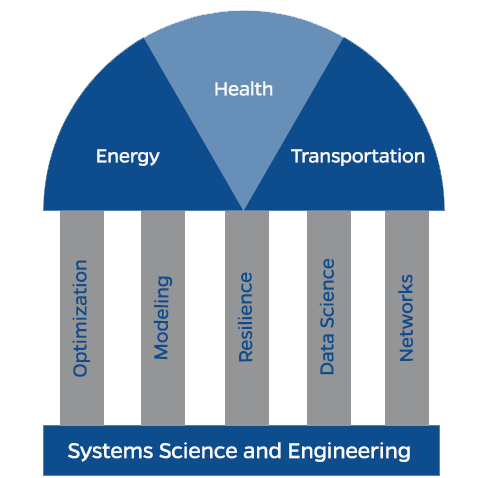 Our research is focused on the areas of Energy, Health, and Transportation, and is upheld by our modeling toolkit. Inspired by optimization — the math of decisions – the toolkit integrates computation, data, and physical science, along with their context in human society, in order to support system function and make our lives safer. Theoretical advancement of network analysis, data science, and computational modeling surround our central pillar of resilience to make certain that we stay grounded to our goal as engineers – ensuring that society can optimally recover from any threat.
Using the toolkit, we work across many temporal and spatial scales: from understanding how to effectively and immediately deliver care to the next patient, to protecting against threats of climate change by optimizing energy infrastructure.
In addition to engineering faculty, CSSE utilizes the expertise of researchers from the schools of Medicine, Public Health, Nursing, Arts and Sciences, Business, and Education at Johns Hopkins as well as members of JHU's Applied Physics Laboratory and the Center for Governance Excellence. We have a host of collaborations beyond JHU with core partners at the MICA Center for Social Design, DIW Berlin, and R-CITI in Australia.
What is a systems approach​
A systems approach is essential in order to understand the global energy landscape.
As civilization moves into an era dominated by climate change, it is vital to be able to effectively model dynamic energy markets. CSSE researchers work to better understand the governing mechanics and vulnerabilities of existing energy systems, and work to model emerging markets as they are effected by new technology and policy objectives.
Three Major Components of CSSE​
The primary role of CSSE is to serve as the focal point of inter-campus collaborations on systems research. The Center's Systems Research Group brings together faculty from Engineering, Public Health, and Medicine with a common interest in using systems methods to advance our understanding of complex problems.
CSSE is developing new graduate courses and programs in systems research. These include interactive, in-person courses and workshops in the JHU Whiting School of Engineering as well as in the other academic divisions of the University. As the research programs in CSSE become established, a full-time Master's and eventually a PhD program in Systems will be pursued.
CSSE serves as a source of systems faculty and researchers who are interested in applying existing systems technology and methods to practical problem solving. Clients include the Johns Hopkins medical system, State agencies, industrial affiliates, and other parties within and outside of Johns Hopkins who need systems expertise to solve technical problems.